Uncle Sam Tin Lantern

Our very own Uncle Sam is depicted here in patriotic style as a working tin lantern that holds any votive candle. Appropriately colored in red, white, and blue, his clothing is embellished with stars and stripes from his trousers to his top hat; some of the stars are cut-outs in the metal construction for ventilation. This jolly fellow holds an American flag, and he has a working door on his back offering access to the candle, which sits in the clear glass votive holder inside.
7" x 4-1/2" x 11" tall.
Item #11556
11.24 Each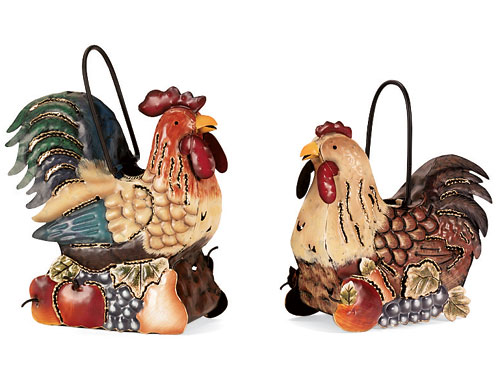 Rooster and Hen Tin Lanterns - Booking/Thank You Gift

Hand-painted tin forms these cute country lanterns. Apples, grapes and pears add lots of color, and cutouts on each one allow candlelight to stream out. For use with tea lights only. Level 2 Booking/Thank You Gift
Large: 6-1/4" x 3-1/2" x 6-3/4" h.; small: 6" x 3-1/4" x 5-3/4" h.
Item #92061
Set/2
Contact Me To Learn How To Receive This FREE Thank You Gift!